Do you find this normal ? ! ?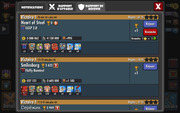 Enougth of this !
Why ?
Fisrt :
I think Young player are really happy to be destroy by big dcr, and find only big dcr to start game.
Second :
All of this big player with low trophy, i can't attack them because game never propose yo me these big dcr
Third :
In tournament, xith star calculation, these player do a lot of star. Attack a small dcr give 800 stars when you are a big player. And you fon't have to spend mana.
Solution :
Game must propose almost same dcr for fight, and that all.
An other improvement can be to change star calculation : calculation must depend only opponent dcr. Not my dcr.