I joined "Studio Ghibli" to help Da Grud win a tournament for a start-up guild. I spend so much time this weekend getting stars that its kind of embarrassing. Then the leader kicked all the top star-earners from the guild today before the tournament ends to get more gems, saying its because they were talking about Dungeon Keeper and not whatever anime movies that they wanted the guild to be about...no warning that I saw. One of the people he kicked wasn't even talking or on line. He just kicked everyone that had more stars than him....
Hats off to this member of our rivals in the
Italy
guild,
Dischettoso
. This guy is really a class act. Much respect to them and anyone competing honestly.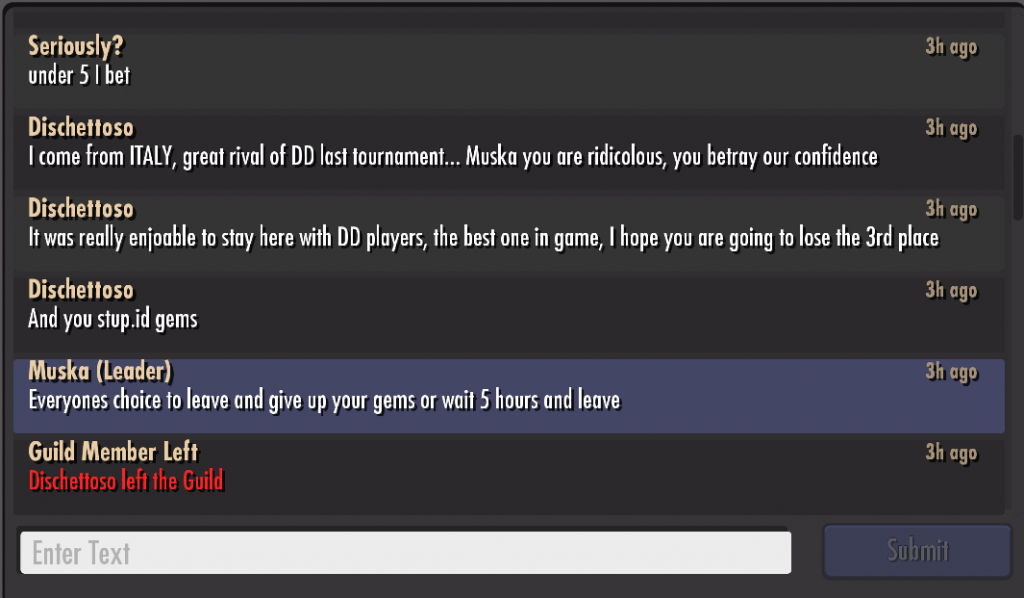 Congrats to
Frogs France
, you are the real winners of this tournament.
One of the members from Brother's Guild joined and told one of our members that the top 5 in that guild admitted to using Macros to dump trophies and have their computers get stars 24/7 so I am guessing that is why that Guild came out of nowhere to win. If this is not the case, congrats to those guys too.
I don't see myself competing in any more Horny Tournaments until the Devs fix the overwhelming issues with the game:
-My max-level dungeon can't get 5% of the stars that my newer dungeon can get.
-A computer can farm stars 24/7, so nobody can legit win the tournament anymore without sandbagging and using bots.